Metal Roofing Machinery
Serving Nashville, GA & The Surrounding Areas. Call For Roll Former Packages Today.
A REWARDING CAREER SUPPLYING THE BEST METAL ROOF PANELS
Roofing is a great industry for a career. First, roofs are essential to every building manufactured in the world. They keep the elements out of the building, protect from the sun, rain, and snow, and they ensure the occupants inside are safe, comfortable, and have a good quality of life. When your roof leaks, is damaged, or needs replaced, suddenly your cheery home or office space is not-so-cheery anymore.
Griffin Iron Werks Machinery is a mom-and-pop metal roofing manufacturer that offers metal roof machines for sale to those looking to invest in their own local roofing company. Based out of Nashville, GA, we sell all types of roofing machines, including roll formers, decoilers, subgirt machines, slitter machines, and more. We offer everything you need to open up your own local metal roofing manufacturing business. In addition, we offer exceptional customer support with on-site training available in the operation of these machines. We love metal roofing panels, and we are passionate about sharing our years of expertise with you so you can help others have the best roofing system available. We offer financing on all of our roofing machines. Contact our metal roofing manufacturing company to learn more and get started today!
SOME OF OUR METAL ROOFING MACHINES
HM-1001 Hemmer

900.11 LMG AG Panel Roll Former

LMF-914.17 Stand Roll Former Synchronized

Slitter

Hemmer

Ridge Cap Roll Former

10-6" Press Brake

Auto Decoiler

CNC-10-6" Press Brake

Custom metal roofing machines
The Best Metal Roof Machines Available
900.11 LMF AG PANEL ROLLFORMER
Griffin Iron Werks Machinery now offers brand new 2019 models. These metal roofing machines are 11 station, compact, and sleek. These rollformers make an excellent metal roof panel. The profile is a pencil top trapezoidal panel profile with five high ribs that are 3/4" tall with 9" spacing in between the high ribs. There are two lines of minor ribs in the flats. If you are looking for a particular metal roofing panel profile but don't see what you are looking for, send us a drawing of the panel and let us build the rollformer for you.
Our roll former package includes:
Multiple stand roll former

Post cut hydraulic shear

PLC control box

Touch screen monitor

Single phase 220v inverter

10 ft set off table
​You can choose from a manual decoiler or you can upgrade to an auto decoiler that allows you to easily run multiple colors in a single day. We supply coil materials as well to help you get started. We offer a true turnkey business with our metal roofing machines, as well as customer support. We can come out to your location for on-site training, and we can supply and ship to you from one of our three strategically placed warehouses. Griffin Iron Werks Machinery ships our meal roofing machines all over the United States and the world. Call today for your metal roofing machinery package price!
13 STAND AG PANEL ROLL FORMER (GREEN)
$65,000.00
Roll formers are amazing pieces of machinery that use a continuous bending mechanism that produces long metal sheets from coiled steel. These sheets pass through a roller to produce metal roof panels that are of the set thickness. Roll formers offer many benefits, including being able to produce a lot of these metal roof panels easily. These machines are very precise and the finishes can't be beat. You can use them for various surface coatings and the like. The metal roof panels are strong, durable, and won't break. Griffin Iron Werks Machinery offers this 13 Stand Ag Panel Roll Former (Green) that will roll your metal roof panels to various styles and cut the pieces, easily and quickly, giving you a lot of metal roofing material to supply your customers with. To learn more about our metal roofing manufacturing process, visit our website, or learn more about financing options today!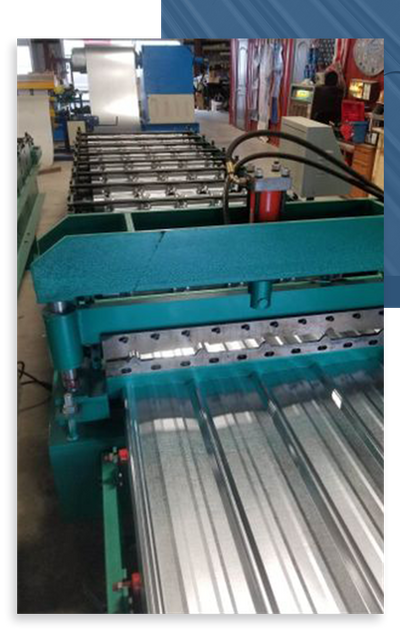 13 STAND AG PANEL ROLLFORMER (BLUE)
$65,000.00
If you are looking for a quick, efficient way to produce thousands of metal roof panels easily, then consider investing in Griffin Iron Werks Machinery for your turnkey metal roofing manufacturing business. We offer this 13 Stand Ag Panel Roll Former (Blue) that gets the job done. This process takes coiled steel, passes it through rolls where it is then shaped or bent. Once the desired look is achieved, the sheets of coil steel are cut to specification. You can create metal roof panels of varying thickness as well. This is an extremely cost-effective way to produce a lot of metal roof panels and to eliminate operational and overhead costs. In short, when you invest in our metal roofing machines, from roll formers to decoilers, you'll have a small business that is both profitable and fun. Contact our team to learn more about our roof machines, or visit our finance page and apply today!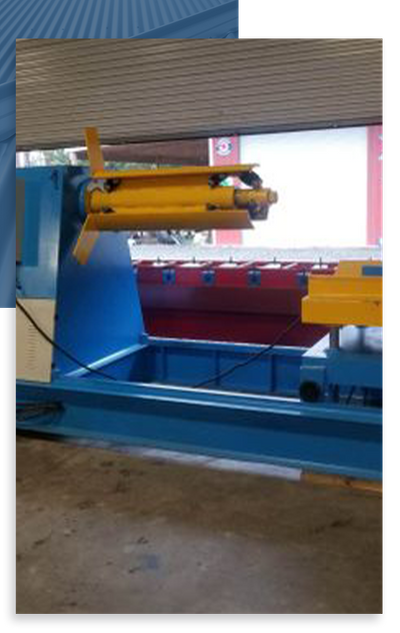 5 TON AUTO DECOILER
$40,000.00
Griffin Iron Werks Machinery offers these Auto Decoilers for your metal roofing machinery needs. Decoilers are often used at the beginning of the metal roof manufacturing phase to safely hold and uncoil the steel strips so they can be cut into metal roof panels by the roll former at the end of the process. These auto decoilers can load up to 10,000 pounds of coil materials. This machine uses a 220v Single Phase Hydraulic pump to control up, down, in, and out, using a mandrel that expands and contracts. These machines ensure a smooth, efficient unreeling of coil material, as well as a perfect cut of the metal roofing panels to your customers' specifications. These metal roofing machines are an essential part of your metal roofing panel business. Call to learn more or for information on our financing options!
ARE YOU LOOKING FOR A METAL ROOFING MANUFACTURING BUSINESS STARTUP?
With the rising popularity of metal roofing, it shouldn't come as a surprise that there are many good business opportunities when it comes to roofing. You can either become a supplier of roofing materials, such as Griffin Iron Werks, you can become a roofer, or you can be involved in some other avenue that uses or involves metal roofs, such as a solar panel installation. There's no doubt that as technology changes that innovation will continue in the roofing industry.
Griffin Iron Werks near Nashville, Georgia, offers the best metal roofing manufacturing, specializing in metal roof panels and offers a great business opportunity for those looking to get involved in the metal roofing supply business. Our roll formers have been set up in warehouses, shelters, pole barns, portable buildings, and more. All you need is at least a 6' x 50' space, and you can be up and running our metal roof machines in no time. There is a great need, and by partnering with our company, you can rest assured that you will have the support you need to succeed. We offer financing on our metal roofing manufacturing equipment, and free training at our site or yours for a nominal fee.
Griffin Iron Werks Machinery is a family-owned and operated small business that values others. We're passionate about supplying you with not only the best metal roofing materials, but also with a great way to support your family and impact people's lives on a daily basis. Call us with questions, and check out our financing opportunities online today!
Call Chate Faust with ACG Capital!
START A BUSINESS TODAY
Call us or drop an e-mail and let us answer any questions you might have!